Regular price
Sale price
$20.00
Unit price
per
Dealz
Sold out
unf*ck your brain
all-natural, medium-bodied, hyper-functional and made with only real ingredients, these cans are a delightful blend to tantalize the taste buds, and get you in flow. so whether you're in need of a mid-afternoon boost or just looking to switch up your drink routine, Functional Fizz is the lively antidote to your slow descent. 
Tomorrow Things - hibiscus, yuzu, lime
Bad Enough Already - pineapple, tamarind, chilli
950+ mgs of nootropics, adaptogens and medicinal mushrooms

low sugar
low calorie
lightly caffeinated
vegan
Shipping Details

📅 we'll ship your order within 2 biz days of purchase + for now, we use ground shipping

🙏 our returns policy is 30 days and we're only able to refund or exchange goods if they are damaged and within this timeframe!
View full details
Ingredients
its what's inside that counts

The proof is as much our ingredients as it is the fact we throw absolute legendary alcohol-free bangers.

be one smart cookie

Nootropics

Compounds, like 5-htp, Maca, GABA, Theanine + natural caffeine that provide brain boosting benefits enhancing mental clarity, creativity and motivation.

get hyped and heal

Amino Acids

L-tyrosine, used in every cell of your body to build the proteins you need to survive and sustain bountiful energy levels.

g'bye bad vibes

Adaptogens

The healing herbs like pyridoxine-HCL, a vitamin-b6; ginger root + rhodiola rosea help expand your mind and body's natural ability to handle stress + fatigue.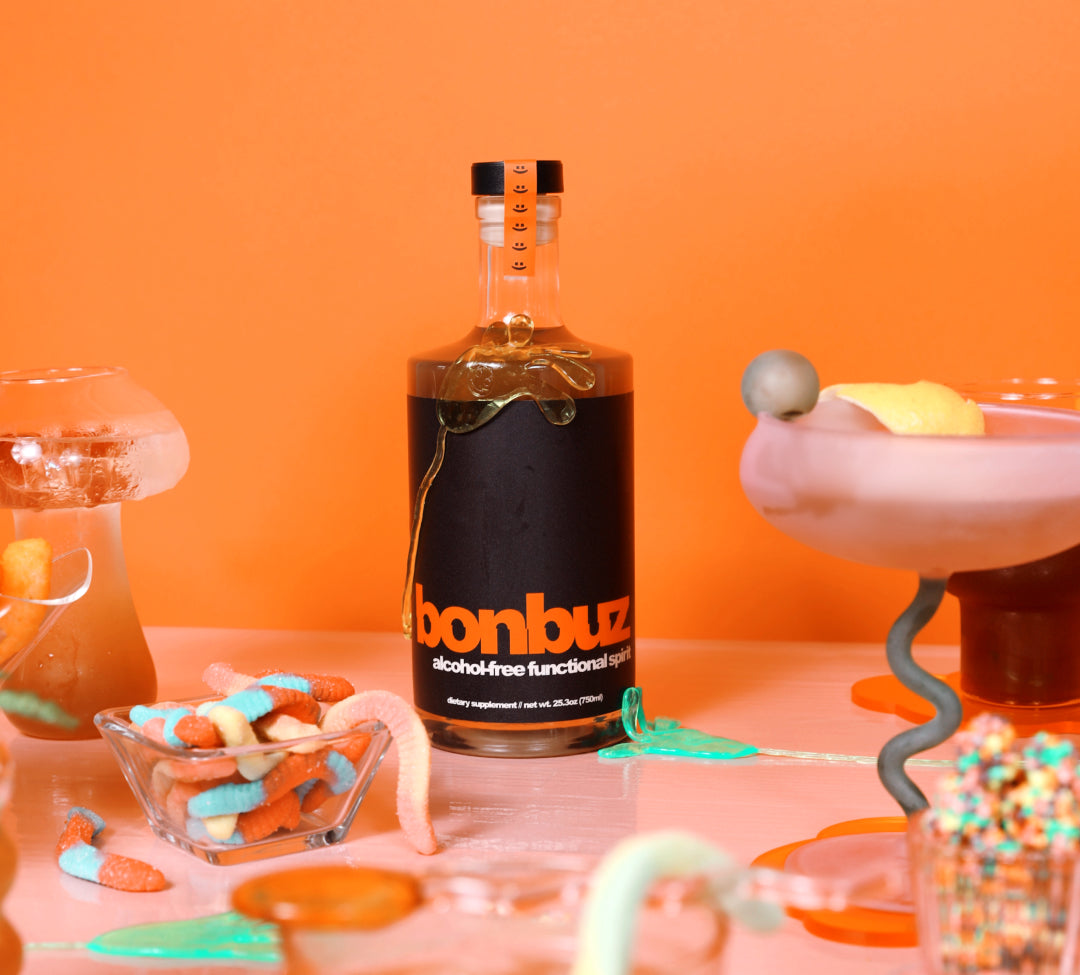 the future of buzz

here to electrify drinking culture with the next-generation of buzz, our non-alcoholic social spirits are packed with nootropics and adaptogens to heighten your senses and transport you to a deeper mind-body experience.

with our super fresh and vibrantly bold palates, we promise your taste buds will tingle - and bring you the bon in every alcohol-free buz :)
Great buz for everyone and every event!
I will take these sexy little cans with me to have and to hold at brunch, happy hour, corporate events, camping trips, concerts, beach days, or just quietly by myself at home.
TOMORROW THINGS is perfectly tart, not too sweet and has that signature "pow" that I've grown to love with bonbuz.
The chili vibes in BAD ENOUGH ALREADY scream spicy brunch, bachelorette party, tacos tacos tacos, and overall pleasure to me.
So happy to have this amazing new set of NA options!
A multi-purpose magic elixir
I'm not gonna lie. I'm a beverage guy. I go to the fridge at Erewhon 2x a week to pick kombucha, teas, hydration tonics, etc.
These things are the best drinks I've tried. By far. Not even close.
I've been trying to cut down to one coffee a day, but the 2/3pm slump kills me. Not anymore. Pop a fizz and boom, easy couple more hours of grooving productivity.
I've also been cutting out alcohol when I go to social events. Sparkling waters only get you so far. One or two of these and you really do feel somethin' goooooood.
Unique, delicious, functional. What more could you ask for?